By gathering insights on proposed ambassadors in key markets in the online arena, some visionary brands are now making more informed and successful choices when choosing a brand ambassador, seizing every opportunity to promote the ambassador-product association for maximum return.
The primary role of the brand ambassador is to personify the values intrinsic to the brand and evoke the dreams associated with owning the product. As such, he or she must demonstrate a trend of increasing popularity and notoriety in the markets where the advertising and promotion will be visible in order to reach the projected target groups effectively. Whereas in the past the brand ambassador's impact was more to confirm a specific brand or model, now it can serve to evoke awareness of the existence of a product, stimulate desire to purchase, then convert. For new product launches, often it is the brand ambassador which makes or breaks the model's success, in both the short and long term.
By gathering insights on proposed ambassadors in key markets in the online arena, the WorldWatchReport 2010 – carried out by IC-Agency in partnership with Europa Star – allows brands to make more informed and successful choices when choosing a brand ambassador. Upstream, using online strategic insights in the initial selection process generates higher quality short-lists, minimizes risk, and makes the selection process and media planning more efficient and successful. Further downstream popularity, reach, brand recall and campaign timing are confirmed through country-specific monitoring of an ambassador's impact and reputation.


Deciphering brand ambassadors' 'share of voice'
TAG Heuer takes 1st place thanks to its strong ambassador-based communication strategy, offering a cumulative share of 34.4% of global demand. Last year Omega's share of 32.5% melted away by 15 percentage points to 17.5%, mainly due to the decrease of searches for Michael Phelps, Olympic sportsman in 2009. Yet, it still holds second place ahead of its sister company Longines, which confirms its strong ambassador positioning with legendary Indian celebrity Aishwarya Rai.
Rolex's strategy for choosing its ambassadors seems more diversified with a total of 5 celebrities present in the ranking (11.2%). Despite its large number of brand testimonies, 'only' stands at fourth place, which reflects its 'niche' and high-end approach in its choice of brand ambassadors. From Tennis star Roger Federer to the singers Diana Krall and Yo-Yo Ma, this much more high-end approach allows the brand to create a significant share of voice related to ambassador notoriety.
Considering the links between a brand ambassador and related online notoriety, Robert-Jan Broer, author www.fratellowatches.com, and Invited Contributor, adds that "Depending on the ambassadors and their presence in the news, the list of most searched ambassadors will immediately absorb them. When Roger Federer won Wimbledon, with his Rolex watch being prominent on screen in front of millions of viewers, the hits increased rapidly on my one-on-one article about Roger Federer wearing a Rolex."
The haute horlogerie brand Audemars Piguet, high-end brand Montblanc and women's jewelry brand Chopard make their entrance within the first 15 positions, most likely due to the amazing level of notoriety of their ambassadors in the BRIC markets. Sachin Tendulkar's 2nd position, Preity Zinta's 3rd position and Eva Green's 8th position in India clearly result in their entry into the global ranking.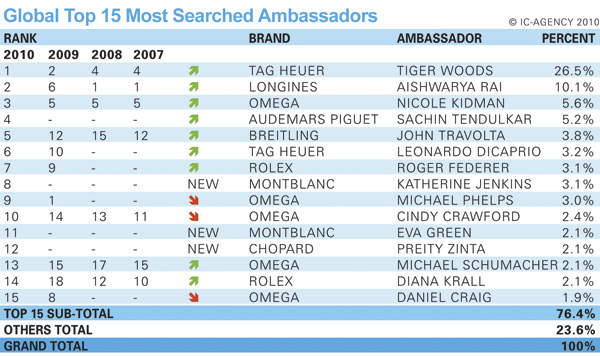 International icons' attraction

Tiger Woods is now the n°1 ambassador (26.5%), and "one of the most powerful brands on the planet, as a man and an am-bassador" adds Benjamin Clymer, Editor, www.hodinkee.com, and Invited Contributor. Without a doubt, these results could be a consequence of his recent private life's exposure. But the debacle that unfolded with the worldwide golf superstar is generating many more searches on his name – especially during November and December 2009 – and may be delaying a potential negative effect on the TAG Heuer brand. Nevertheless, TAG Heuer's presence with 5 of the Top 30 Most Searched Ambassadors – against 8 last year -, still represents the greatest share of searches related to brand ambassadors, with almost 35%.
Nevertheless, Omega, for which the Olympic Games – reflected by last year's Michael Phelps's pole position – and the James Bond Quantum of Solace movie effects are now over, falls behind TAG Heuer in terms of searches on their brand ambassadors, with just 17.5% compared to 32.5% in 2009. "It is interesting to note that while Daniel Craig, the actor who played James Bond, is relatively low on the list, his watch, which is best associated with the character, is number one on the list of most searched models" adds Benjamin Clymer.
When we look closer at the BRIC markets in particular, Tiger Woods interestingly only ranks 13th, while Aishwaray Rai is naturally in first place, namely thanks to high search volumes coming from India. This considerably impacts the ranking, with tremendous consumer appeal for Bollywood superstars and national athletes, boasting almost two out of every three searches on brand ambassadors, all BRIC markets considered.
Western celebrities Nicole Kidman, Roger Federer, John Travolta and Leonardo DiCaprio seem to be extremely popular among BRIC market consumers. Gisele Bundchen, Lisa Ray and Maria Sharapova perform well even if they don't appear in the Top 15 when considering all countries as a whole. Adding India to the study's scope results in Audemars Piguet and Sachin Tendulkar, the famous Indian cricket player, leading the ranking of the most searched haute horlogerie brand ambassadors. Indeed, more than one out of every two searches (55%) concern Tendulkar, pushing the 2008 number one Jaeger-LeCoultre actress Diane Kruger to second place.
According to Anita Khatri, General Manager, Times of India, and Invited Contributor, the local demand for specific models in India are directly linked to the brand ambassador strategies: "TAG Heuer's Carrera is promoted by Bollywood's most successful filmstar Shah Rukh Khan, not to mention the brand's other ambassadors Leonardo DiCaprio and Tiger Woods. Omega is promoted by Abhishek Bhachan and Nicole Kidman. Rolex is promoted by Roger Federer. All these brand ambassadors are extremely popular among Indians".
In the coming years, it is likely that other ambassadors coming from the BRIC markets are going to challenge Hollywood actors and renowned Western athletes.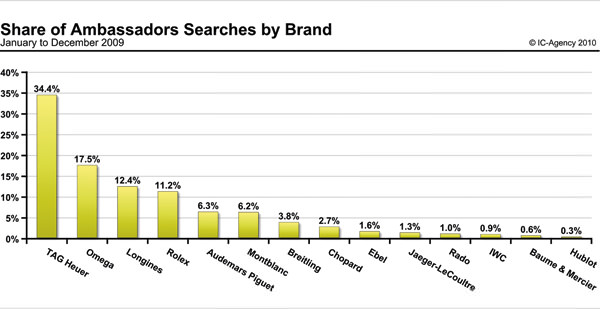 Listening to online communities
Having access to a measure of a potential ambassador's reach and clout in key markets can serve as an excellent negotiating tool. And making the right choice from the start will protect a company from the costly legal fees involved in prematurely ending a contract. Integrating online insights into the selection and validation process, brands can advance to the next level of campaign optimization, seizing every opportunity to promote the ambassador-product association for maximum return. With the current trend of asking the Internet public for marketing and innovative product ideas, the next gene-ration of brand ambassadors may even be chosen and promoted by the online communities themselves.